Top Notch Angus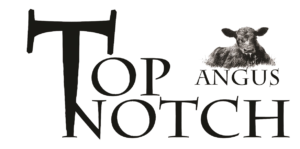 Marv & Patty Cross
15380 Clear Creek Rd.
Chinook, MT. 59523
Email – [email protected]

Home – 406.357.3534
Marv's Cell – 406.262.3127
Patty's Cell – 406.262.4635
---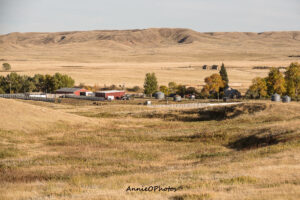 Top Notch Angus is owned and operated by Marvin and Patty Cross.
Top Notch Angus was started in 1991 by Marvin Cross. In 2013 Patty Nissen merged her herd with Marvin's herd. The combination of the two herds resulted in a strong cow herd with Marvin and Patty having similar tastes in cattle. After the merger, the herd was downsized to 85 mother cows as most of the labor is provided by Marv and Patty.  They run all registered cows and market their bulls through Milk River Angus Bull Sale and offer heifers and some bulls via private treaty.
---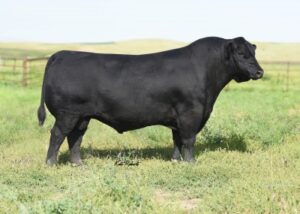 Their lead-off herd sire for the past 4 years has been Stevenson Turbo Power 50010.  He was purchased from Stevenson Angus in the spring of 2016. "Turbo" is adding feminine, fertile, phenotypically correct females to the herd and bulls that mirror Turbo's massive muscle expression coupled with moderate birth weights. There are several Turbo bulls in the 2021 sale offering along with J & J Weigh Up 294, Stevenson Easy Money and several Top Notch bred sires including a Cowboy Up son, an Ellingson Chaps son as well as a Turbo son.
Top Notch Angus sold their bulls through Montana's Northern Premier Angus Sale from 2013 until 2020. In the spring of 2020, the Northern Premier group split up allowing those breeders to create their own individual marketing plans. Top Notch Angus chose to return to the Milk River Angus Association, now in their 25th year.
---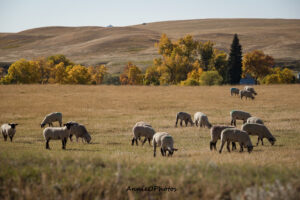 Marvin retired in May 2014 from the DNRC and now devotes his full attention to the cattle, family, and friends.  Patty also enjoys her small flock of sheep from which she sells several club lambs to  4-H members throughout Montana. Her lambs have won many championships over the last 20+ years.
---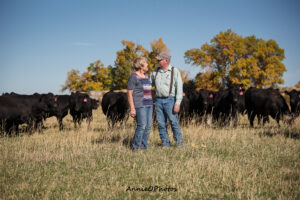 Please feel free to call or stop in anytime!
We love the company and the coffee pot is always on!