Pike Cattle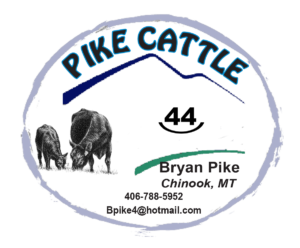 Pike Cattle
Bryan Pike
Chinook, MT 59523

Cell – (406) 788-5952
Email – [email protected]
---
Pike Cattle is operated in conjunction with Four Butte Cattle Company, which is located in the Bear Paw Mountains, south of Chinook, Montana. Four Butte Cattle Company is owned and operated by my father Kent Pike.  Management of the registered herd is much like that of the commercial herd. The majority of the bull calves are sold as steers, resulting in only the top end of the bull crop being retained.
My registered herd is summered in the mountains south of Havre, Montana. The core of my herd originated from a few foundation cows from Sitz Angus and Ox Bow Ranch. Along the way, they have been influenced through genetics from McCumber, Ohlde, Sinclair, and Ox Bow. Cows are culled deeply with strict criteria on functional traits. They must be efficient, easy fleshing, deep ribbed, with ideal udder structure.
As input costs continue to rise and labor pools dwindle, it becomes increasingly important to breed cattle that can work for a living. This means efficiency, fertility, longevity, mothering ability, and structural soundness need to be at the forefront. The harsh environment of North Central Montana applies additional stresses that serve as a genetic sorting stick. Remaining disciplined in breeding decisions and consistently breeding "like cattle" to "like cattle" creates deep ribbed, heavily muscled cattle. I strive to breed cattle with "bred in thickness" not "fed in thickness." The foundation to this consistency lies within a uniform cowherd, that has these desired genetics bred through them for generations. I approach breeding cattle as an art, not a numbers game.
My bull calves are currently sired by OCC Cortez, OCC Jet Stream, R44 Paxton 6704 (OCC Paxton X Game Day 449), R44 Emulation 7756 (Sinclair Emulation XXP X OCC Emblazon).